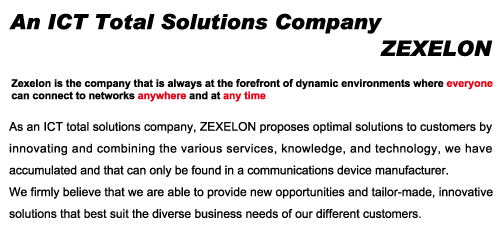 Since our founding, we have expanded our area of business and created new products and services through continuous attempts at new businesses and through the creation of innovative technology based on our technological capabilities as a communications device manufacturer.
Currently we are developing a diverse array of businesses as an ICT total solutions company with businesses in everything from network device development, design, production, and sale to OEM and ODM, ISP, the construction of telecommunications installations, the construction of electric installations, maintenance support, and personnel support.
We are ZEXELON
Taking this "Zexelon spirit" to heart, we are working vigorously as a corporate group so as to be able to contribute to the construction of a vibrant information company in order to be a company that can continue to help our customers in the future.
We thank you for your support and encouragement going forward.
PresidentKazuhiko Nakagawa